046 - Fiery Frenchgirl
(name pending)
2019 Sorrel Quarter Horse Mare
Owned By: Frenchmans Quarter Horses
Return to Previous Page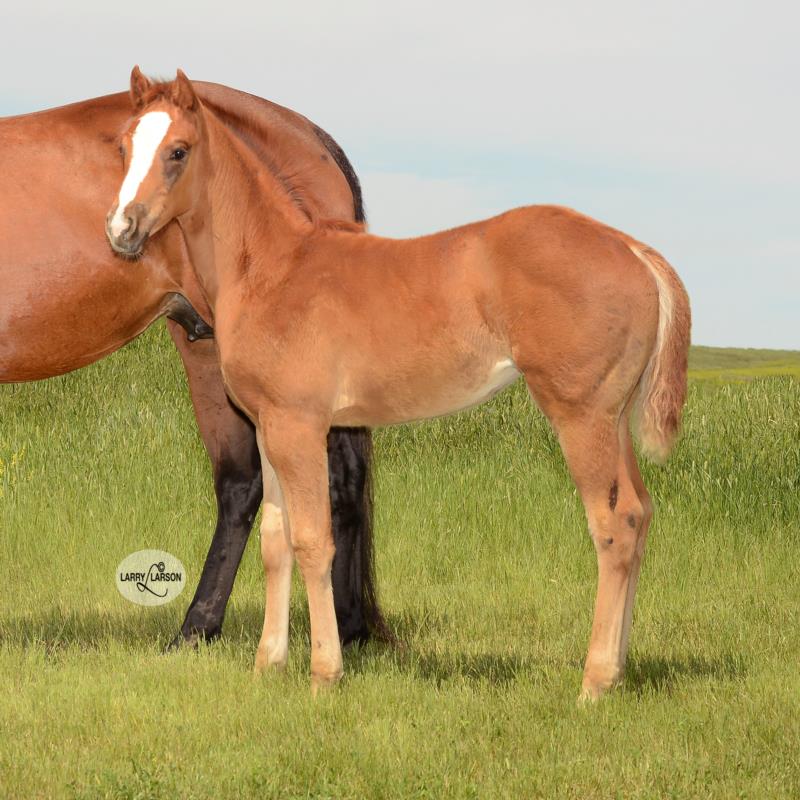 This filly is a "full sister in blood" to Fiery Miss West (Missy), ridden by Jessica Routier to lifetime earnings of over $400,000, the 2018 WPRA Reserve World Champion and Reserve Average Champion at the 2018 NFR. By the late stallion, Firewater Frenchman, and out of Bo Jets Quick Dash a full sister to Missy's dam, Frenchmans BoDashus, (deceased).
The barrel racing world is searching for horses with Casey's Charm breeding. Casey's Charm is the dam of PCFrenchmanslisbet, PCFrenchmansHayDay (Dinero), Frenchmans Fabulous and to 4-time world champion – French Flash Hawk (Bozo). Both the 2018 and 2019 Calgary Stampede barrel race were dominated by granddaughters of Casey's Charm.
Casey's Charm is a daughter of Casey's Ladylove, who is also the dam of Frenchmans Guy's mother, Frenchmans Lady. Casey's Ladylove and her daughters seem to be the magic ingredient in successful barrel horses. This filly is loaded with these valuable genetics.
Fiery Frenchgirl is kind, responsive, and eager to learn. Extremely athletic -she is bred to be a world champion.
Future Fortunes – Paid In Full, Eligible for Select Stallion Stakes and Five States Barrel Futurity
---
Firewater Frenchman

---

Fire Water Flit AA




A Leading Barrel Horse Sire

---

Flit Bar




Sire of multiple NFR qualifiers

---

Slash J Harletta




World Champion Barrel Horse

---

PCFrenchmansLisbet




full sister to 4x World Champ. Barrel Horse

---

Sun Frost




World Champion Barrel Horse Sire

---

Caseys Charm




out of AQHA Hall of Fame mare

---

BoJets Quick Dash

---

Royal Quick Dash

---

First Down Dash

---

Harems Choice

---

PC Frenchmans BoJet

---

Boon Dox John

---

Frenchmans Go Jet

---